2015
Theatre De Kampanje
Den Helder, NL
Theatre 'The Kampanje' is the new cultural centre and playhouse of Den Helder, located in the city's old naval yard 'Willemsoord'. The project transforms a collection of maritime buildings, which have been inaccessible for over 170 years, by introducing new public functions such as a concert hall, flexible performance spaces, an art centre, offices and a restaurant. Inspiration for the design is drawn from the identity and character of the historic buildings, an interplay of structure, craft, public space, docks and water.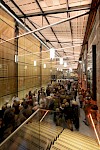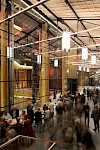 In order to maintain the unique character of the interior and exterior spaces, the design is restrained, with careful consideration undertaken for any changes made. To ensure the spatial experience of the grand historic halls, an auditorium has been designed of glass. This characterises the additions made, with an emphasis on transparency that stands opposite the introverted nature of the existing historic fabric.
Nevertheless, the auditorium sits a naturally within the protected building, with the use of glass creating long sightlines across the hall; seeing and being seen becomes a guiding theme throughout. This conviviality is part of the traditions of the theatre, with the social aspect often just as important as the performance itself. The strength of the intervention lies in the precision of the restoration, combined with the radical nature of the additions.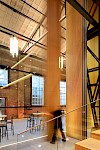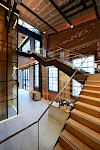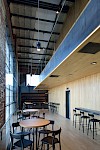 The plan has also an important urban component, which will give fresh impulse to a forgotten edge of the city. By situating the main entrance toward the centre of the site while adding secondary access to the city at the side, a lively public path is created, along which various elements of the programme are organised, restoring the connection between the city and sea.


---
Location: Willemsoord, Den Helder, The Netherlands
Stage: Completed
Function: Cultural
Program: Theatre, flexible performance space, art centre, restaurant, offices
Gross Floor Area: 8,000m2
Date commission: 2012
Date construction: 2013 - 2015
Design Team: Rui Duarte, Henk de Haas, Klaas Sluijs, Lorna Gibson, Gianna Bottema, Hesh Fekry, Raul Forsoni
Client: Willemsoord BV
Contractor: M.J. de Nijs en Zonen B.V.
Structural engineer: IMD, Rotterdam
Acoustics & Engineering advisor: LBP, Nieuwegein
Building physics advisor: LBP, Nieuwegein
Building management advisor: BBN Adviseurs
Installations advisor: Kropman Installatietechniek
Theatre advisor: PBTA
Photographs: Allard van der Hoek
©Van Dongen- Koschuch