2018
Brick twins
Rotterdam, NL
The Wilhelminakade in Rotterdam is shaped by its maritime history. Passenger ships bound for America sailed from this pier and during the 19th and 20th century the pier became a symbol of emigration of Europeans to the United States and Canada. Van Dongen-Koschuch was asked to design two apartment buildings within this historic context, which since 2000 has seen a period of high-rise development. The buildings are located on the southern quay of the pier between the Seattle residential tower designed by Alvaro Siza and the Luxor theatre by Bolles+Wilson.





Both towers are 70 meters tall, and stand on a plinth of commercial spaces and a 4-storey parking garage. The floors above house 6 apartments each, to a total of 220 homes. A green roof is the link between the two towers where a large collective outdoor area is situated which has the added benefit of panoramic views over the harbour area as well as a communal meeting space. The cross-shaped floorplans allow for abundant views over the harbour and sunlight during the day.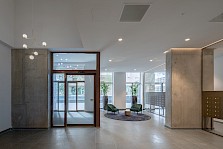 This cross-shaped form results in a slender and elegant volume, along with semi-indoor balconies. The main challenge for the parking garage was to avoid designing an impenetrable box. We therefore developed a façade concept with an artistic intervention. Historical figurative images of have been projected onto a vertical structure of blinds that integrate elements for privacy, natural light and ventilation. From the ground level, the façade is perceived as a play of light and see-through fragments as you walk around the building. This dynamic structure combined with the robust grid of the towers which seem to integrate seamlessly on the Wilhelminapier.




---
Location: Rotterdam, The Netherlands
Stage: Completed
Function: Residential / Multi
Program: Sales and rental housing, commercial and parking
Gross Floor Area: 40,000m2
Date commission: 2013
Date construction: 2014 - 2018
Design Team: Casper de Heer, Maarten Verhelst, Miriam Llamazares, Jeroen Kreijne
Client: HAL investments, BPD en Synchroon
Contractor: J.P. Van Eesteren B.V.
Structural engineer: Zonneveld Ingenieurs, Rotterdam
Building management advisor: DB-M
Fire safety advisor: Nieman
Photographs: Bart van Hoek
©Van Dongen- Koschuch